We've given our dogs the best life possible, and when we know time is getting short we often start to think about putting together a bucket list. It's a way for us to squeeze every last drop of joy from our relationship, and leave us with happy memories to last a lifetime. 
Visiting favorite places and giving them foods they love are just two of the many suggestions. Keep reading for a much more extensive list!
What is a Bucket List?
According to Oxford Languages, a bucket list is "a number of experiences or achievements that a person hopes to have or accomplish during their lifetime." Turns out it's not only people who can have these experiences!
Although this post is about senior dogs, don't wait until your dog has reached old age to start creating incredible memories together.
2 Steps to Creating the Perfect Bucket List for Your Dog
Step 1: Be Realistic
♦ You may think it would be such fun to go on a long hike on a summer day to enjoy the view from on high, but is that an item for your dog's bucket list…or yours!
♦ Cooking your pup a delicious meal with all the trimmings has your mouth watering, but can his sensitive stomach handle such rich food?
When figuring out what you want to do, be sure to consider your dog's current health and abilities.
Step 2: Make a "top 5" list
What 5 things does your dog love more than anything, and work your way through the list. Does he have a favorite doggy or human friend he hasn't seen in a while? Arrange for them to spend quality time together. Does he love a ride in the car? Fantastic. Pack up his dog bed, extra water and snacks and off you go.
An important thing to consider: Make sure the top 5 are things he's able to do and enjoy now.
Ideas to Add to Your Dog's Bucket List
NOTE: I realise I'm stating the obvious, but I'm going to do it anyway. When choosing items, be sure they're right for your dog. For example, he loves steak and it's been such a long time since he last had a taste. That's all well and good, but has he developed a more sensitive stomach and is there a risk he'll develop pancreatitis? Stick to what you know is safe and don't worry…all your dog really wants is to spend quality time with you.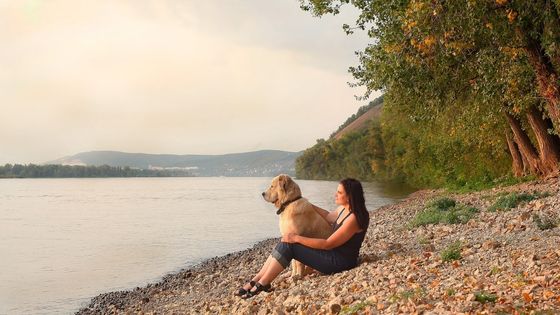 A trip to the Beach
Even if he can't run along the beach or only wants to wade into the water for a moment, you can still have a wonderful day out. My dog doesn't like the water, but he's more than happy to sit on a bench with us and relax. All the compliments he gets from passersby don't hurt either!
Be sure to bring an umbrella or other form of shade, a blanket, snacks and plenty of water. Oh, and don't forget to take lots of pics!!
Extra Cuddles
Of course you do this anyway, but sometimes things get hectic and we may not pay as much attention to our dogs as we would like. Whether it's snuggling on the couch together while you read or watch your favorite Netflix series, a cool night in front of the fire or a gentle brush, make time each day for some one on one bonding.
Go Toy Shopping
If your dog loves his toys, is there anything more fun then visiting a pet supply store and having him choose his new favs!! Be sure to include interactive toys and games to keep his mind active. It could help stave off dementia, or at least reduce the effect.
Give him 1 or 2 at a time, then every few days rotate so he doesn't lose interest.
Family Photo Shoot
Since your dog is a much loved member of your family, it makes sense to include him (or her) in a family photo. While you're at it, why not have a few professional shots taken just of him! A quick search of pet photographers should bring up some in your area.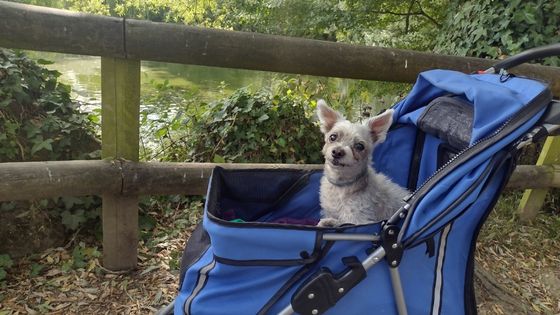 Buy a Stroller 
The best thing I ever bought for my heart dog Red was a stroller. She was able to walk at a very leisurely pace which was absolutely fine, but having the stroller meant we could easily include her in longer walks with our other dog. It also made it so much easier to include her in day trips and other outings. Although she weighed just under 10lbs, after about 10 minutes of carrying her she felt more like 50! I now have one for my current dog Jack since he's affected by mobility issues and can't walk much. We're actually planning a nice hike for this weekend, and instead of getting a pet sitter and leaving him at home, he can now join in on the fun!
There are a wide variety of styles and prices, so whether you're taking a quiet walk on a paved path or tackling rougher terrain, you'll find a stroller to suit your needs and budget. Check out FB Marketplace for a deal, or see what Amazon and Chewy have to offer. 
Let Your Dog Sleep With You
If you've never allowed your dog on the bed before, maybe it's time to start. Keep in mind you may not be able to get away with a "one off" slumber party. He may enjoy it so much you'll have a new bed mate nightly.
If your dog is blind, drinks a lot due to kidney or other issues or has dementia and needs to wander, it's probably not a good idea to try this. The last thing you want is for him to fall off and get hurt.
Book a Doggy Massage
Watch a Youtube video, find a professional to give you some tips, or take him to someone with experience…the choice is yours. I'm no professional, but even my feeble attempts make Jack so happy. He plops at my feet, back to me and that's my signal. He absolutely loves it and I'm happy to oblige.
Here's what the American Kennel Club has to say about the benefits. 
Visit a Doggy Bakery
If your dog is as food motivated as mine is, then what could make him happier than visiting a bakery filled with dog treats! Not up for a visit, or nothing in your area? No problem, you can probably find one that delivers.
Splurge on a New or Another Dog Bed
I have a few dog beds scattered throughout the house. I do that so wherever my dogs are, they have a place to rest. It also gives me the chance to try different types and styles so they can choose the one they find most comfortable.
If your dog is having mobility issues for example, an orthopedic bed or mattress may help. Another option is one that is lower in the front with raised sides. This allows your dog to walk right in, rather than having to lift his leg and climb into it. The raised sides provide support should he choose to rest/lean against them.
Schedule a Playdate
Schedule a play date with a furry friend he hasn't seen in a long time. Even if your dog can't run in the park like he used to, it's still important for him to socialise.
Cook for Your Dog
How about some meatballs made with lean beef? What about a chicken stew? The great thing is you can freeze it in small portions and use it as a topper on his regular food. Just be sure it's safe for him to eat (sorry for stating the obvious again).
I mix lean ground beef, one egg with the shell, some green beans, squash and carrots, spread it in a pan and bake When it's ready I cut it into small squares and freeze. I used to make meatballs but it was very time consuming, so I got smart and now bake it this way. I rotate with other human foods to keep him interested.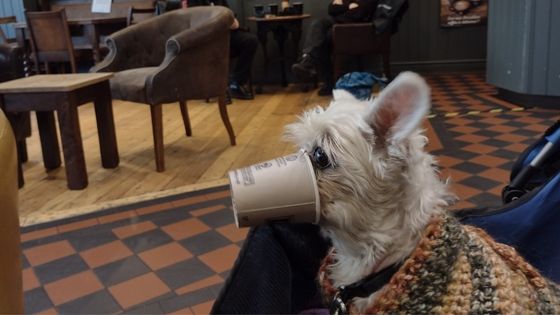 Treat Your Dog to a Puppucino
I first heard about this being served at Starbucks while living in Florida, but they even have them here in England in some regular cafes. It's basically just a cup of whipped cream, but dogs go crazy over it. I'd love to see pictures of your dog enjoying one, so feel free to send them over and I'll publish a few in this article or on social media.
The picture is of my dog Jack thoroughly enjoying his puppucino.
Plan a Road Trip
Staycations are what it's all about these days, so while summer is still here why not plan a couple of days away. Pack up the car and see where the road takes you. Not to put a damper on this plan, but make sure you have enough medication, food if he's on a special diet, and keep the name of a local emergency hospital handy just in case. Make frequent stops for pee and water breaks and, since you know your dog best, don't let him overdo it.
Host a Celebration of Life Party
What a great way to have friends and family over who would love a chance to spend some time with your pup. If it's not too much, why not invite some of their dogs as well. Snacks for the two legged and four legged attendees and maybe some games in the yard, will create great memories for everyone.
Dine at a Dog Friendly Café, Dog Cafe or Restaurant
This is a great way to get your dog out and about, even if he has mobility issues. Enjoy a drink or a meal and watch the world go by together. It's even more fun if they have a doggy menu!
Create a Dog Calendar
If you have kids, you've probably created a calendar chock full of family photos. You may have also noticed shelters put out pet calendars as a way to raise much needed funds. Whether you create one for yourself, to hand out to friends and family, or as a way to raise money for a favorite charity, this is one item that should be on every dog's bucket list.
A Romp in the Snow
One of the members of my FB group mentioned how much her dog loves snow, and finding a way to have him enjoy it again was top on her bucket list. Someone suggested giving him a bowl of shaved ice to eat, while another mentioned bringing her dog to the ice rink. When they cleared the ice they would dump the "snow" outside and her dog would roll around in it.
Keep Some Fur
Not so much an item on your dog's bucket list as on yours, it's a wonderful keepsake.
Make Prints of Your Dog's Paws
Just like the previous item, it's another wonderful memorial to your dog. I'm terrible at buying birthday presents for my husband, so one year I took my dog to one of those ceramic places where you paint your own piece. I decided to make a coaster for him with our dog's paw as the central design. My husband absolutely loved it!
Go On a Camping Trip
If you've been wanting to go camping for awhile, now's the perfect time to head out. We could all use a change of scenery, and what's more relaxing for you and your dog then setting up in a beauty spot and enjoying being in nature.
Share an Ice Cream Cone
I've never had a dog that didn't love ice cream, so if yours is the same why not indulge! I only bought doggy ice cream but lots of dog parents I know treat their dogs to a lick or three of the human variety. Be careful of high fat content though!
Have a Spa Day
Whatever sounds relaxing to you and enjoyable to your dog. A gentle brush, special treats, a massage and a nap in the yard.
Take Lots of Pictures and Videos
Not so much a bucket list item for your dog, but definitely one for you!
Just Spend Time Together
By all means, work your way through some of the ideas listed and create amazing memories, but don't forget to just spend quality time together.
What's on your dog's bucket list? Share your thoughts here and help other senior dog parents create their perfect list.
I'm a dog trainer specialising in working with senior dogs. Whether you have health & wellness concerns, or you've just rescued an older dog and need training tips, I can help! Sessions are conducted via Zoom and I offer a FREE 15 minute no obligation chat. To book, email hindy.greypawsandall@gmail.com or visit my website.