While there's a chance your senior dog will experience some kind of joint pain during his or her lifetime, the good news is there are lots of things you can do to help.
Below you'll find an extensive list of ways to reduce pain in dogs with arthritis, and other forms of joint pain. Some I have used, other suggestions come from senior dog moms and dads in my FB group.
At the bottom of this article I've created a list of everything mentioned here, without links or explanations. You can print it out and use it as a resource. 
**This article contains affiliate links, which means if you buy something I may receive a small commission. This has no effect on the price you pay.**
1) Drugs
I know many senior dog parents who prefer to take the natural route when treating their dog, and I get it. I wish I had a holistic vet near me, but I don't.
Before you dismiss this option outright as I've seen many people do, be mindful that drugs work a lot faster than natural supplements. When our dogs are in pain, our priority is to give them relief as quickly as possible.
I want to be clear – I'm not in any way encouraging you to give your dog pain medication, nor shaming you if you refuse.
There is of course, the possibility of combining drugs with alternatives. I've read of many cases where supplements and natural therapies were effective enough to reduce the medication, and sometimes stop it completely.
Note: Changes in medications and addition of supplements, should only be done under vet supervision.
Librela
A once a month injection used for pain currently available in many countries including Canada and the UK. In May 2023 it was approved by the U.S. Food and Drug Administration, and is now available in the U.S. 
My dog Jack was on it for a few months and it was helpful.
Adequan injections
Adequan is an FDA-approved drug shown to slow down and even reverse cartilage deterioration in a dog's joints. It is a prescription medication, so discuss with your vet if it's right for your dog. 
Cartrophen
It is a treatment for osteoarthritis and related musculoskeletal disorders in dogs and horses. It is available only by prescription, so have a chat with your vet.
Galliprant
Designed to manage osteoarthritis by treating both inflammation and pain 
Gabapentin
This is a U.S. FDA approved medication for humans, but is often prescribed to treat seizures, anxiety and nerve pain in dogs. It's prescription only, so discuss this option with your vet. In the meantime, here's some interesting information worth reading – "Gabapentin for Dogs: Uses and Side Effects" 
Amantadine
Amantadine (brand names: Symmetrel®, Gocovri®, Osmolex ER®, Endantadine®) is an antiviral medication that also has some pain control effects. Its use in small animals is primarily for the treatment of pain, and it is often paired with other pain medications such as non-steroidal anti-inflammatory drugs (NSAIDs), opioids, or gabapentin."
Read this ⇒ "Gabapentin and Amantadine for Chronic Pain: Is Your Dose Right?" 
Beransa injection
This medication is the same as Librela, and is available in Australia. I've been trying to find out where else it can be purchased, but I haven't been successful. I saw Europe mentioned, but I know in the UK, for example, it's sold as Librella. I suggest checking with your vet's office.
Read this ⇒ For detailed information, check out this article "Beransa: A New Era in Canine Osteoarthritis Pain Management" 
Tramadol
This is a synthetic opioid used to treat pain in dogs, cats, and other small mammals, and is available only by prescription from your vet. 
Sugar free Calpol
Although it's used to treat pain in children, a member of my senior dog care FB group told us her vet recommended its' use. Speak to yours and see what he or she says. 
Rimadyl (brand name for carprofen)
it is prescribed as part of a chronic pain management strategy for dogs with osteoarthritis. 
Read this ⇒ "Rimadyl (Carprofen) for Dogs: Uses, Side Effects, and Alternatives"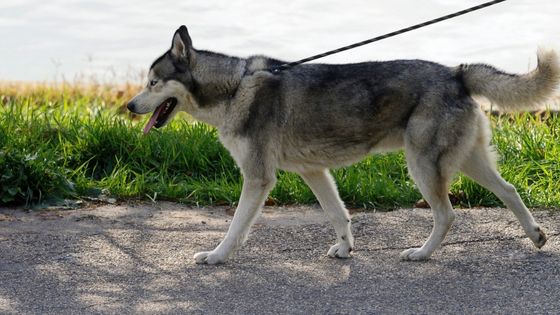 2) Supplements
There are several supplements and natural alternatives to help your dog deal with pain and inflammation from arthritis, and other types of joint pain. Any specific brands mentioned have been highly recommended by members of my FB group Senior Dog Care Club.
Before adding anything to your dog's treatment plan, please speak to your vet or holistic vet. If they aren't able to advise about natural options, consider speaking with an herbalist. Please check with your vet before starting something new.
New Zealand Green Lipped Mussels
They are a type of mussel found only in New Zealand, and the shell is rimmed in green.
Benefits
Natural inflammatory

Reduces pain

Protects joints

Boosts the immune system

Strengthens bones

Helps in repair of cartilage

Preventative
What makes green lipped mussels so powerful? Just like fish, green lipped mussels contain Omega-3 fatty acids, but it is the combination of fatty acids, minerals and antioxidants found in the mussels that makes them so powerful.
One very popular brand is called Super Snouts Joint Powder
Glucosamine and Chondroitin
There are a few product recommendations below, but I'm also including this article should you like information about what glucosamine and chondroitin are, and their importance.   
COSEQUIN® maximum strength with MSM and omega-3
Dasuquin® Advanced Soft Chews – this particular formula is only available at your vet
Zesty Paws Mobility Bites 
MSM – Methylsulfonylmethane (MSM)
MSM blocks the transfer of pain impulses through the nerve fibres, by enhancing cortisol production, a natural anti-inflammatory hormone produced by the body. If you prefer to rely on food for MSM, the best sources are raw, organic meats and bones.
I recommend reading this article if you'd like an in depth look at what it is and how it can help. 
Deramaxx
Helps manage pain and inflammation due to canine osteoarthritis. Visit their website to learn more about this product. 
Duralactin Canine Joint Plus Soft Chews
Soft chews for maintaining healthy cartilage and joint function while managing inflammation in dogs and puppies. 
CBD
Many people swear by it, others have found it ineffective, and I have never used it on any of my dogs. I'm mentioning it because there's lots of anecdotal evidence suggesting it's beneficial for managing epilepsy, anxiety and reducing pain and swelling in dogs with mobility issues.
Lots of senior dog parents in my FB group Senior Dog Care Club have seen good results, and here are the brands they recommend: Spectra Cana Drops, American Shaman, ElleVet,  Charlie and Buddy Hemp Oil and Charlotte's Web.
Here's a link to a study you'll find interesting: "Pharmacokinetics, Safety, and Clinical Efficacy of Cannabidiol Treatment in Osteoarthritic Dogs" 
Read this ⇒ "CBD Oil for Dogs: What You Need to Know" 
Rose-Hip Vital Canine Joint Health General Wellbeing
This is a plant-based anti-inflammatory and immune system support for joint health and overall wellbeing. It's made from rosehips and scientifically and clinically proven to reduce inflammation and protect cartilage. Visit their website for details about this product and how it can help. 
Bone broth
It is the liquid left over after simmering raw or cooked bones for several hours. It's been called an immune boosting super food, extremely nutritious, easily digestible, chock full of vitamins, minerals and a whole lot more.
Bone broth is loaded with glucosamine, chondroitin, gelatine and hyaluronic acid – all joint protecting compounds.
Recipe
Raw, fresh, frozen or cooked bones from the butcher or your own meals (chicken, turkey, beef, duck, goose).

Raw apple cider vinegar/regular vinegar/lemon juice – it's up to you but ACV is most often used.

Water

Some of the extras people use:

Chicken feet, joints, and knuckles (joint bones have extra cartilage)

Celery, carrots, spinach, kale, green beans, broccoli, parsley, kelp, zucchini, yellow squash, turmeric
Cooking method
The most recommended way to make the broth is to use a crock pot because of the number of hours it needs to simmer.
Instructions
Put all the bones into your crock-pot

Add enough water to cover the bones by about 2-3 inches

Add 2-4 tablespoons of apple cider vinegar. This helps pull all of the minerals and nutrients out of the bones and into the broth

Turn your crock pot on high for about an hour to get things started, then turn to low and let cook for 16-24 hours, but 24 hours is the time most people cook it for. Keep an eye on it in case more water is needed to cover the bones

Strain well because you only want the broth, the bones will be too soft and dangerous for your dog to eat

Let it cool
What it will look like
When it comes out of the fridge you should see a hard layer of fat on top, so just remove it and throw it away. Underneath that layer the broth should have the consistency of jelly, but don't worry if it doesn't it just means you didn't add enough vinegar so add a little more next time. The bone broth will still be beneficial and packed full of goodness.
Storage
If kept in the fridge it must be consumed within 3-4 days, frozen it can last up to one year. If you do freeze it pour into ice cube trays for easy to use portion sizes and for a treat on a hot day. What about freezing some in a Kong? That will keep your dog busy for a long time!!
Only Natural Pet Hemp Chews
There are 3 to choose from specifically formulated for mobility issues. Senior Mobility Support, Advanced Mobility Support and Hip & Joint. They don't contain sweeteners, artificial flavors, colors or preservatives, and are made in the U.S.A. Visit their website to see their products and learn more about them. 
*Turmeric Golden Paste
Those of us in the senior dog care community have seen some amazing results from using turmeric golden paste. Like with most things, that doesn't mean it will work for every dog, but It's worth joining the Turmeric User Group on FB to learn more. It's great for humans as well so you may want to give it a try. Here's the link to the recipe  and here's the link to the group.
*Boswellia (Indian frankincense) 
A tree native to India, the herbal extract is taken from the tree that produces special compounds which have strong anti-inflammatory effects.
Read this ⇒  "Dietary Support with Boswellia Resin in Canine Inflammatory Joint and Spinal Disease" 
*Cinnamon
Contains anti-inflammatory properties to help manage joint pain and reduce swelling. I read in Dogs Naturally Magazine to mix 1/2 tsp of cinnamon in 1 tbsp of honey for a medium-sized dog. I would do more research on that and speak to your vet or a professional herbalist.
*Hawthorne 
"Hawthorn is a well-loved choice among herbalists because of its cleansing properties. According to Dr. Morgan, who studies how Chinese medicine methods can help animals, pain arises when blood stagnates in the body. "Hawthorn helps decrease pain by moving the blood, which decreases pain."
This quote about Hawthorne was taken from an article called "4 Botanicals That Are Natural Anti-Inflammatories for Dogs." The 4 they're talking about are listed above – turmeric, Boswellia, cinnamon and hawthorne 
Copaiba essential oil
Essential oils can be beneficial for many dogs for a wide range of issues, pain included. This article, "Copaiba — Essential Oil for Canine Joint Discomfort" talks in great detail about its benefits and was written by a vet who created a line of essential oils for dogs. 
Bromelain
"Bromelain is an anti-inflammatory enzyme found in the pineapple plant that digests proteins and promotes plasmin, contributing to healthy tissue in your dog. Its anti-inflammatory properties help manage morning stiffness and joint swelling associated with arthritis."
While there are products on the market that contain bromelain, I would advise against grabbing just anything. You need expert advice regarding the amount suitable for your dog, as well as frequency.
I came across research discussing Bromelain and its effects on arthritis, and although it's a human study I found the information interesting. 
Sea cucumber
Contains anti-inflammatory properties, helping to eliminate pain, and provide essential nutrients required by cartilage.
This article "Soothe Your Pet's Joints Naturally with A Sea Cucumber Supplement" provides useful information on this supplement. Please note, it's on a website with a product to sell and I can't vouch for it, I just found it an interesting read. 
I recommend speaking with a holistic vet or herbalist for more specific information and brand recommendations.
Omega 3 Fatty Acids
They are a powerful, natural method for decreasing the inflammation and pain associated with arthritis. With the number of products on the market, how do you choose which one to buy? It's often a case of trial and error, but here are 3 for you to consider. Ask your vet for recommendations as well. 
Zesty Paws Wild Alaskan Salmon Oil Liquid Skin & Coat Supplement for Dogs & Cats
Nutri-Vet Fish Oil Softgels
Zesty Paws Omega Bites
Read this ⇒ "How much Omega 3 fatty acids should I give my dog?" 
Read this ⇒ "Omega-3s Significantly Improved Canine Arthritis in Double-blind Clinical Trial"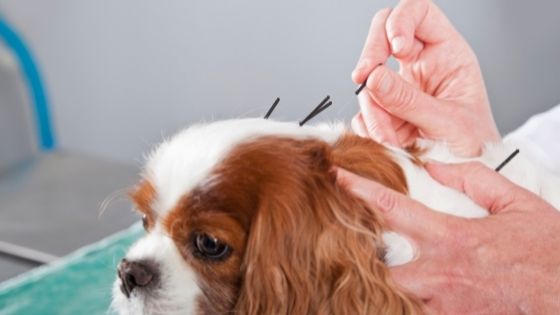 3) Alternative Therapies
What I like about alternative therapies is, they can be used in conjunction with medication and supplements. This means another way to help our dogs.
Laser therapy
According to the American Animal Hospital Association, laser therapy is beneficial for a variety of medical conditions, including arthritis. Many veterinary clinics offer it, so have a talk with your vet to find out how it can help your dog.
"What is Veterinary Laser Therapy?" 
Acupuncture
I know so many senior dog parents who have reported real improvement in their dogs' mobility thanks to acupuncture. My heart dog Red had twice weekly acupuncture sessions for 3 months, although in her case it was recommended by her holistic vet as part of her overall wellness protocol. When we stopped the treatment (we moved and no longer had access to this treatment), I noticed a decline in her overall wellbeing. In her case, I can confidently say acupuncture was a great benefit. 
Find a reputable and experienced practitioner. Some vet offices offer treatment, or can recommend someone. If not, search the website of an accrediting body for a list of practices in your area. 
If this is something you'd be interested in looking into, this article is a great resource. "Acupuncture/Acupressure for Dogs"
Hydrotherapy/Swimming
This is another therapy many people with arthritic senior dogs have tried with varying degrees of success. While it isn't meant to be a stand alone treatment, hydrotherapy combined with other options such as medication and/or supplements can mean an improvement in your dog's mobility.
When taking your dog swimming, a life jacket may help him feel more relaxed.
Read this ⇒ "Hydrotherapy for the osteoarthritic dog: why might it help and is there any evidence?" 
Read this ⇒ "The Benefits of Swimming for Dogs with Osteoarthritis | Canine Hydrotherapy for Joint Health and Mobility" 
Massage
To put it simply, daily massage helps increase circulation, and the good sensations block the bad ones!
"Canine massage therapy is getting more recognition as an effective healing tool, and is one treatment that can really enhance an arthritic dog's quality of life. Although any dog is a candidate for massage, it can play an especially therapeutic role for those with osteoarthritis."
"How to Massage a Dog with Arthritis" 
4) Products
Heating pad
Heat is a great way to reduce pain, joint stiffness, and muscle spasms. It also improves blood flow especially in dogs with injuries and osteoarthritis. They come in many styles and sizes, you're bound to find one to fit your dog and suit your budget.
Cooling bed or mat
Ice is great for reducing pain and swelling by limiting the production of inflammatory chemicals in an injured or arthritic area, and allowing healing to occur more easily.
To learn how heat and ice can benefit your dog, read this – "Heat or Ice Which is Better for an Older Dog?" 
Harness
A harness is a great tool to help your dog get around more easily. Whether it's going up and down stairs, doing a couple of laps around the yard or going for a walk, a harness can offer the support your dog needs to make walking less painful.
One very popular brand recommended by many senior dog parents in my FB group is called the Help 'em Up Harness. Visit their website for more information about their product, plus helpful advice on choosing the right size and the correct way to measure your dog. 
For my dog Jack I used a rear lifting harness, although I positioned it behind his front legs because that's where he needed the most support. The one I'm featuring here is the LOOBANI Portable Dog Sling. I have a different brand because I bought it in the UK, but the style is exactly the same and it was a game changer for us. 
Stroller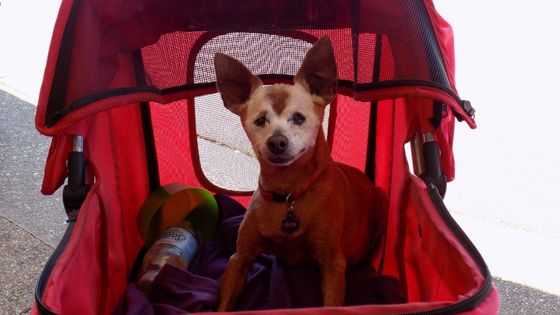 My life literally changed the day I bought a stroller for my heart dog Red, seen in the picture above. She was able to walk, but being small and blind I had to be careful when lots of people were around. She also couldn't walk long distances so we always ended up carrying her part of the time. A 10lb dog can get heavy pretty quickly…and then I discovered the dog stroller. We always took her everywhere anyway, but it got so much easier. We took that stroller on buses, trains and ferries and luckily she loved it.
When Jack started developing mobility issues the stroller came in handy once again.
We didn't only use it for travel or long days out, I often took it on daily walks. This meant they were able to walk as long as they could, then ride when they needed a break. It meant we didn't have to cut walks short.
There are so many styles to choose from, Amazon has a great selection. You can buy the most basic one which I have and love, or you can buy fancier ones for bumpier terrain. No matter your dog's size and your budget, you should find something.
FB marketplace is worth keeping an eye on for a used stroller.
Wagon
It serves the same purpose as a stroller, and is another option to look at. It would be awkward to get it onto public transport, but fantastic for walks and days out. 
Ramp
A ramp is huge help for dogs is having trouble jumping into the car, or onto the couch, but before investing one here are things to consider:
Sturdiness and quality –  Can it support the weight of your dog without losing structural integrity.
Recommended weight limits – Follow the recommendations and underestimate. For example…if you are looking for a ramp to support your 90lb dog, I wouldn't buy one that is made for a maximum of 100lbs. Am I saying it won't be safe? Not at all, I would rather have a bit more leeway that's all.
Added safety features – Raised sides? Non skid surfaces? Extra wide steps? 
Ramp incline – Too steep and it will be too difficult or even painful for your dog to manage. Opt for a longer and more gradual incline.  
Indoor/outdoor use – Where will you be using it?
Amount of floor space it will take up – If the ramp will be permanently against the bed or couch, how much of the floor space will you lose? Will it become a tripping hazard?  
Price – There is a wide range of prices, but resist the urge to buy solely on price as you don't want to compromise on quality and safety. 
If your dog is reluctant to use the ramp or has no idea how, here are the steps I took to teach my dog Saffy.
Step one
Lay the ramp flat on the floor and let your dog check it out. If he seems fine give him a treat (toy or praise if he prefers). Do this a couple of times, or more if needed, until you know he's not bothered being around it. Don't reward him if he seems fearful, because you'll be reinforcing that feeling – only when he's relaxed.
Step two
You're at step two because he's perfectly fine being around the ramp. If he's still a bit hesitant, go back to step one. It's better to take longer than rush and cause anxiety.
Set it at a very slight incline, then put a treat on the ramp itself, but close enough to the edge he doesn't have to put a paw on it. If he's fine take another treat and put it slightly further up, then another further up than that.
Don't move it along until he's comfortable with the previous distance.
You can take one treat and put it further and further back, or create a trail from bottom to top and let him eat his way up, it's entirely up to you. Once he's walking happily along the ramp, gradually increase the incline until it's at the position he'll be using it at.
Runners/Interlocking foam mats/Yoga mats
These are all options to prevent your dog from sliding on the floor, and will also help him get up from a laying down position. For more advice about senior dogs and slippery floors…."How to Stop Your Dog Slipping on the Floor." 
Bed
In my experience it's a case of trial and error, but I'm happy to share a few examples of what my dogs have liked: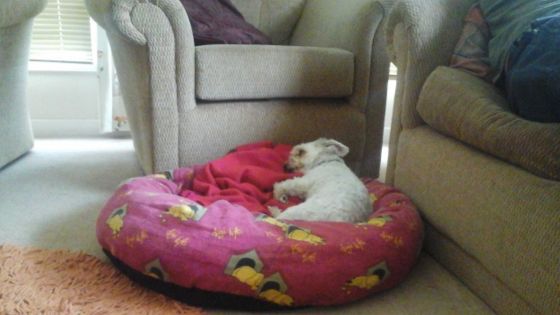 Round bed with a thick pillow in the middle – that's Jack lying in this bed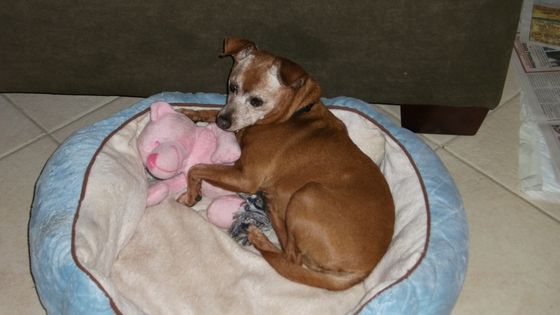 Three raised sides to lean against with a low front for easy access. This was Red's favorite bed when we first adopted her. 
In her later years, Red preferred a human comforter. I put a cover on it, then she arranged it the way she liked. It was super comfortable and supportive, and I kept a fleece blanket on it during the winter for extra warmth.
5) Weight Loss, Diet and Nutrition
If your dog is overweight, that puts pressure on already painful joints so getting your dog to a healthy weight is very important. The first thing to take a look at is the type and amount of treats you're feeding.
Give up the high fat "junk" treats and try things like raw carrots, raw apple, boiled chicken and small amounts of cheese. Single ingredient treats such as dehydrated chicken and beef are available, or make your own. Pinterest is a great resource for all kinds of healthy and easy to make dog treats.
Consider an "anti-inflammatory" diet high in vegetables, fish, eggs, fresh meat from grass fed animals, and small amounts of fruits such as blueberries, mango and papaya.
Eliminating grain has led to vast improvements in many dogs' arthritis. Most dry food contains grains so if you can't completely omit them, look for brands with reduced carbs, fillers and grains. Canned foods tend to have fewer carbs then dry.
I recommend speaking to your vet, holistic vet or a pet nutritionist for advice on the best diet for your dog. Be aware, if you notice certifications in pet nutrition on your vet's walls, they're usually awarded by big pet food companies, and it doesn't mean your vet knows a lot about nutrition. If you do prefer homemade or natural options, be sure to discuss your choice with your vet so he's up to date on what's going on with your dog.
Read this ⇒ "Best People Food (Yes, People Food!) for Arthritic Dogs + 5 Natural Recipes" 
Downloadable Resource
I've created a downloadable resource, which lists every item I mentioned in this article. It's handy to take it with you to the vet, or to refer back to it over time. "Suggestions for Reducing Arthritis Pain in Dogs" 
I'm a certified and experienced dog trainer, specialising in helping senior dog parents with health and wellness issues, and training advice for new rescues. You can reach me, Hindy, via email at seniordogcareclub@gmail.com or https://greypawsandall.com/training-and-consultancy-for-dogs-over-7