Exercise is so important for every dog's physical and mental well-being, and that need doesn't end when the beautiful warm weather does. As dogs age they don't always tolerate the cold weather, so how do we ensure we still provide the physical exercise they need?
A coat over a sweater, walking around a big box store and teaching him how to use a treadmill are just 3 of many great tips…so keep reading!
**There are affiliate links in this post, which means if you purchase anything I may receive a small commission. This does not affect the price you pay**
A Two-Part Post
I'm dividing this article into two parts. The first will talk about how to prepare your dog for those winter walks, and the second will list specific ways to exercise your dog.
PART ONE
Keep Them Warm Outside
There are so many clothing options for dogs, it's easy to keep them warm on a cold day. I recommend investing in a sweater, a warm coat and a raincoat. If it's very cold where you live, a coat over a sweater works well.  
Some dogs have limited patience, and if you're taking too long putting on a sweater or coat they get annoyed, and may even show you just how much!
Some of my dogs were fairly easy going, and then we got Jack. He had little patience so I solved that problem by crocheting him some coats, following this super easy Youtube video.
Sweater
The picture above is of my dog Red (RIP) wearing the sweater style I always buy. I found the best ones in a Florida Walmart and TJ Maxx, as hard as that may be to believe! Amazon and Walmart online both have good selections, but you can find them anywhere. 
I like it because…
◊ It's easy to get on and off
◊ The neck is high for added warmth
◊ It's soft and comfortable to wear for extended periods of time
◊ The sweater is flat in the back. Some have a rounded end that is supposed to fit over their butt, but I don't care for that style
◊ It has a slit in the back for those whose dogs wear a harness
◊ It doesn't have the elastics that go over the legs to stop the back from flying up in the wind. It is a helpful feature, but my dogs don't like it!
Coat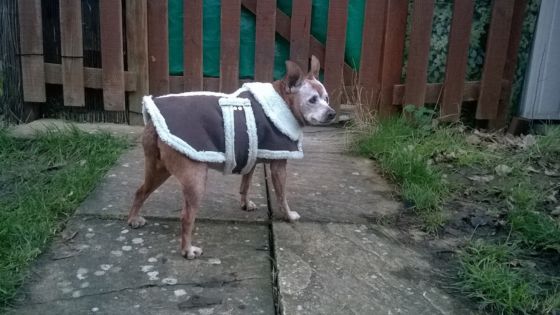 Most coats don't cover a dog's stomach, so if it snows where you are, find one that does. You'll be happy you did! Whether you buy a separate coat for rain and one for cold is up to you. I buy both.
I mentioned some points about why I like a certain style sweater, well the same applies to a dog coat. The easiest ones are those with a velcro flap under under the neck and one under the stomach, which you'll see Red wearing above. That style doesn't offer great coverage for the stomach in snowy and wet weather, but if there's a sweater underneath it will offer more protection. 
Doggie pants/onesies/pajamas
PJs are great for providing warmth to areas coats and sweaters don't. 
The warmer your dog is, the greater the chance he or she will be willing to venture out…even if it's just 5-10 minutes at a time.
Helpful tip: Before putting on pajamas or a sweater, drape it over the radiator for a minute to warm it up a bit.
To purchase from Amazon or Chewy
Paw Protection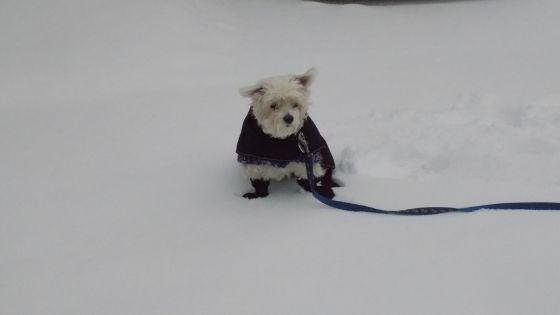 Walking in snow isn't easy for many dogs, so some kind of paw protection would be helpful. It's particularly important when walking on ice as it can be painful and cause irritation. 
Booties offer the best protection, but not every dog will agree to wear them. They come in a variety of styles so hopefully you'll find something they'll like.
There is a style of bootie that looks like deflated balloons, and comes in a variety of sizes. I can't even count the number of dogs I saw wearing them in Toronto a couple of winters ago. I spoke to a lot of dog parents who couldn't say enough good things about them.
Jack didn't like them because it takes a bit of time to put on, and he wasn't willing to accept that! To be fair he didn't like muttluks either.
I finally found a pair he was okay with, but they were made of felt so of course they didn't keep his paws very dry. However, they were great in terms of protection from salt which was most important.
The picture above is of Jack looking very unhappy! We don't live where it snows so this took some getting used to. He's bundled up in a coat I crocheted, another waterproof winter coat on top and the felt booties I mentioned. 
If you've tried everything and wearing booties is out of the question, I recommend buying paw wax. My dog Red couldn't walk in any boots so wax was the only option and it really protected her paws from the salt and ice.
Purchase paw wax from Chewy or Amazon
Be Careful of What's Under the Snow
Black ice, sharp objects and holes are all potential hazards, but we can't see them to avoid them. If your dog is used to walking off leash, you may want to keep him leashed just in case.
Walking in the Snow is Hard!
You can get a pretty good workout just walking through the snow, but think about the strain on an old dog's heart and joints. When out for a walk, try and stick to paved paths and keep an eye on the clock.
Get Them Dry Right Away
As soon as you get home, take off your dog's wet clothes and dry him off. I always keep a towel by the door, so the dogs don't track paw prints throughout the house. It can also be harder to catch them once they've scampered off.
PART TWO
Now that we've talked about protection against the weather, let's look at exercise options. Walks are best but some days, despite our best efforts, venturing out for anything more than potty breaks is out of the question.
NOTE: In this article, exercise is not only physical exercise but mental stimulation as well. Keep a dog's mind occupied is as important as exercising his body. It will help stave off boredom and even tire him out.
Physical Exercise
Indoor Walks
Have you heard of mall walking? It's a great way to keep people active, and give them a chance to socialise. Why not adapt that for your dog? While most malls, at least in my experience don't allow dogs, many big box stores do. Load up the car and take your dog for a walk, even if you have nothing to buy. Once around the store can be a great workout, and it's a change of scenery which will do everyone some good.
Play Fetch in the House
Even if you have a short hallway, you can still get in a game of fetch. Simply throw a favorite toy, encourage him to bring it back and give him a treat. If you haven't played this game before, sit on the floor and start by dropping the toy right in front of you. As he gets the hang of it, throw it further and further away.
If your dog has mobility issues, don't make him walk too far and keep your eye on the clock.
Create an Obstacle Course…in the House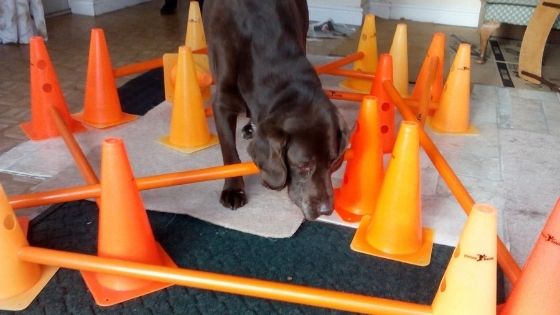 You can find lots of pieces online to create your own obstacle course, or make your own for free.
◊ Hold or hang a hula hoop and let your dog walk through it. How high off the ground will depend on ability.
◊ Rest each end of a broom handle (or something similar) on a brick or pillow, and have your dog walk over it. Again, mobility issues will determine the height.
◊ Buy cones in the dollar store, space them out and guide your dog through them.
See where I'm going with this?
Make a Ball Pit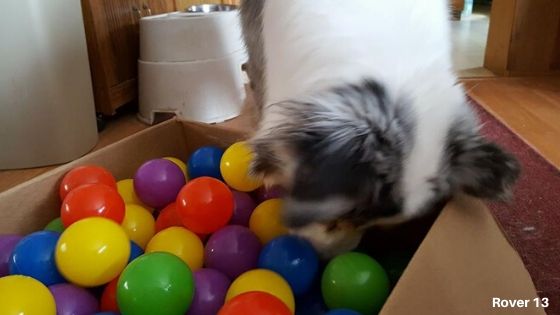 All you need is a kiddie pool, plastic balls and you've got yourself a ton of fun. If the balls aren't too deep, try hiding treats and see what happens! If you don't have a pool, a cardboard box will do. 
Indoor Classes
Training, tricks, agility, games and more. Check your local area for the types of classes offered that might be the right fit for your dog.
Up and Down the Stairs
If your dog is mobile enough, stand at the top of the stairs, throw him a favorite toy and have him bring it to you. If you have too many stairs, sit on a step you know he can comfortably reach.
Visit a Doggy Friend
If you haven't seen much of your friends lately, now is the perfect time to pay them a visit…especially those who have a dog. Not only will the change of scenery do both of you some good, your dog will have a friend to run around and play with. He'll also have some new toys to discover!
Play Hide and Seek
Whether you hide the treats or yourself, this is a fun game with great rewards for the effort. If you're hiding, be sure there's an extra special treat for when he finds you.
Indoor Swimming
A quick search for "indoor swimming pools for dogs" will bring up a list of swimming or hydrotherapy pools in your area. It's such a great form of exercise in all weather, and perfect for achy joints.
Walk on a Treadmill
It's possible to teach your dog how to walk on a treadmill, and they even sell them especially made for dogs. Start off on the slowest speed, no incline and see how he goes. 
Mental Stimulation
Puzzle Toys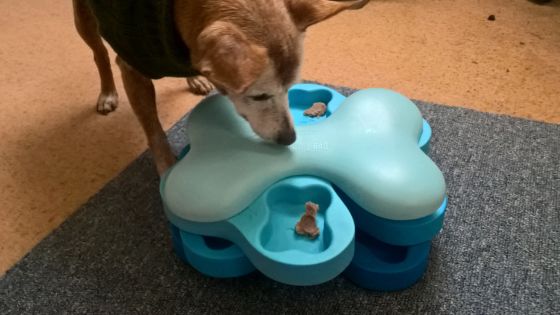 Buy them or make them, puzzle toys come in varying degrees of difficulty to challenge even the cleverest dogs. This is the one I had for Red and she liked it. You can make it super easy or more challenging, just don't make it so you're your dog gets frustrated and loses interest.
Play the Cup Game
Take 3 cups, easy enough to knock over but not too easy they wouldn't stand up. With your dog watching, put a delicious treat under one of the cups. Move them around a couple of times and let him find the right one. When he does reward him with food he loves and a ton of praise.
Teach Your Dog New Tricks
Whether you find something new to teach him or go over ones he's known for years, either way it's a great way to engage your dog's mind.
Treat Dispensing Toys
Fill them with treats and watch them fall out as your dog rolls them across the floor, or watch him try and get the treat out on his own! A Kong is a great example, and you can even freeze it to make it more challenging. 
Snuffle Mat
Dogs love to forage, and burying food or treats in the snuffle mat will allow him to do what comes naturally.
Chew Toys or Bones
Potentially long lasting and a great boredom buster. They're available in a wide range of sizes and types, some with meat on them and some without. You're bound to find one or more to interest your pup. Please never leave your dog unattended when chewing a bone.
Which Hand Holds the Treat
I used to play this game with Jack and since he was so food motivated he loved it! I put a piece of chicken in one hand, then held both my closed hands out for him to find.
How do you make sure your dog gets enough exercise in the winter? Sharing helps others so please leave a comment below.
I'm a certified and experienced dog trainer, specialising in helping senior dog parents with health and wellness issues, and training advice for new rescues.
I offer a FREE, no obligation 15 minute telephone chat. It's a chance to talk about your questions and concerns, and for me to share how I can help.
All sessions are conducted via Zoom.
You can reach me, Hindy, via email at seniordogcareclub@gmail.com or my website.