Toys help dogs learn, they tire them out, prevent boredom, help with anxiety and they're fun.
Many old dogs do love to play with toys, a fact confirmed by a recent survey I did of senior dog parents. Many old dogs also have no interest in toys, another fact confirmed by that same survey. Some lost interest as they got older, some preferred food and attention, while others came from abusive situations so had no idea what a toy was.
Why Toys are Important for Dogs
Helps satisfy natural instincts

Teaches them to have fun alone

Relaxes them

Provides mental stimulation

It's fun!

Reduces anxiety

Outlet for excess energy

Staves off boredom

Another form of exercise
*There are affiliate links in this post, which means if you buy something I may receive a small commission. This has no affect on the price you pay.*
What Makes a Toy Suitable for an Older Dog?
Plush – many older dogs have dental issues/missing teeth. Soft toys make it easier for them to grab
Noisy – toys that make noise are great for dogs with some hearing loss or partial/total vision loss. If your dog isn't looking your way, a few squeaks of the toy will get his attention!
Bright colors – for dogs with some loss of vision, bright colored toys may make it easier for them to see
Glow in the dark – makes them a lot easier to see when playing in the yard at dusk/nighttime
Talking – again, great for dogs that can't see well or at all
Scented – some toys are scented which could help a vision impaired dog locate it. Adding a drop or two of a dog safe essential oil to an existing toy may also help
Interactive – puzzle toys and snuffle mats are just two types that are great for mental stimulation. Whether or not your old dog is still going out for long walks, it is important to keep his brain active. It helps get rid of excess energy and may even delay/prevent the development of dementia
Should Your Dog Have Access to Toys all the Time?
Your dog should always have access to toys…just not all of them at once!!
If your dog has lost interest, it could be he's just bored of seeing the same ones lying on the floor all the time. Keep things fresh and interesting by only putting out 2 or 3 at a time, then rotating them every few days.
This alone may not be enough to get his attention. Picking up the toy, shaking it, and engaging with your dog will make it more interesting, and increase the likelihood of him wanting to play.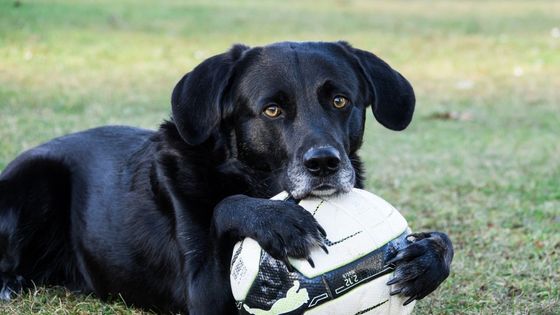 Types of Dog Toys
There are so many types of dog toys, it can make it challenging just knowing which ones to try. Some old dogs are obsessed with balls, others love to chew on toys that squeak.
If your senior dog has lost interest in his favorite toy lately, perhaps it's time to try something else!
Here are your toy options:
Rope
Rope toys are great for fetch, tug of war or chewing. Even if your old dog can't run like he used to, a calmer game of tug or even a short throw of the rope will engage him. If he just prefers to chew, let him because it could help keep tartar away! It's best to supervise him when the rope toy is out, because some dogs can shred it and swallow pieces of it.
Tug
We just mentioned ropes as great tug toys, but there are many other types as well. When choosing. think about what's comfortable for you to hold, and the size your dog will be able to grip in his mouth.
Plush
Easy for dogs to carry around, and soft enough to use as a pillow! Some have squeakers and stuffing, so if you have a chewer there are plenty of plush toys that come without either.
Non plush
Typically made of materials such as rubber, vinyl or plastic, some come with squeakers and some don't. Just as we mentioned above, if you have a chewer get one without, and supervise him to make sure it's durable.
Discs
Discs like a frisbee for example, are great for dogs that love to run and fetch, and it's also easier than a ball for some dogs to pick up. If your dog isn't able to run as far or jump as he used to, you can still have fun with the frisbee just don't throw it high and keep it low to the ground.
Chew
Many things on this list can be considered a chew toy, but I'm mentioning it separately because there are toys specifically labelled as chew toys. They're mainly for dental cleaning but your dog can still have fun with it!
The reason the ability to chew on a toy is so important is because it can help calm your dog done, and is an outlet for any anxiety he or she may be experiencing. A fairly common issue in older dogs due to vision and hearing issues and dementia.
Food dispensing
If you have an old dog than a food dispensing toy is a must.
A lot of senior dogs experience a decline in appetite, and getting them to eat can be a challenge. Many don't walk as far or as often as they used to, and are bored with sitting in the house so much.
A food dispensing toy is a great way to keep your dog busy, and present a new and interesting way for him to eat his meals. Sometimes presenting his food in something other than his regular bowl is all it takes to stimulate his appetite!
Balls
I've known many senior dogs obsessed with their ball, and it doesn't matter if they can't run after it as quickly or as far as they used to. They come in so many sizes, textures and styles, your dog will be spoiled for choice. Just be sure it isn't too small he could accidentally swallow it, or too big he can't get a hold of it.
Again, if you have a chewer be careful of the material or any pieces that can break off.
Puzzle/interactive
Similar to food dispensing toys we mentioned earlier, these puzzle toys are designed to challenge your dog with varying degrees of difficulty, and a reward at the end! Perfect to keep an old dog's mind active to hopefully delay/avoid dementia, and it will help release pent up energy in between walks or if he isn't going out as often as he used to.
Talking
These toys start "talking" as soon as your dog starts chewing or moving it around. They may be some comfort to a bored or anxious dog, and a good choice for a blind dog.
Floating
Swimming is such a great form of exercise for dogs of any age, but particularly for old dogs with mobility issues. Whether he's going for a dip in your pool, the lake or he's having a hydrotherapy session, a floating toy is perfect. Made to float they come in a variety of styles, just find the one your dog can easily find and grab.
Toys for Senior Dogs
Pretty much any toys made for younger dogs are suitable for senior dogs, but if yours has health issues some may be better than others.
3 toys perfect for senior dogs
No matter what's going on with your dog, these are perfect options!
Lick Mat – If there's one thing senior dog parents tell me their dogs love it's a lick mat. Smear it with peanut butter, your dog's canned food, cream cheese or anything else you can think of, and it will entertain them longer than if you had just put it in their bowl.
Snuffle mat – Another very popular item is a snuffle mat. Hide food or treats and let your dog forage.

Kong – a must have for every home with a dog, Kongs come in various shapes, styles and sizes and they even have one for seniors! Stuff it with part or all of your dog's meal, store bought or homemade treats. Freeze it to make it more challenging and longer lasting.
Condition specific toys
As I've mentioned, most toys are suitable for old dogs, but I thought I would list a few good for specific health issues. All of the recommendations come from senior dog parents!
NOTE: Even though a particular toy is mentioned in one group, it's most likely suited for those in others. The purpose of this is to simply give ideas.
Dementia
It's important to keep any dog's mind active, and puzzle toys are an easy way to do that. There are so many on the market to choose from, just do an internet search or check out the two recommendations below. 
Of course they can get expensive, so you can always go the DIY route. Pinterest has a ton of easy to make suggestions.
Nina Ottosson By Outward Hound Puzzle Toy – puzzle toys are great for dogs with dementia, because they need to use their brain to figure out how to get the food.
Frisco Hide and Seek Plush Flying Saucer Puzzle Dog Toy – another example of a toy for mental stimulation.
If you have a dog with dementia, you will find the information in this article helpful this⇒ Why is Your Senior Dog Suddenly Restless at Night
Dental Problems
If your dog is experiencing dental issues, or is already past that and has no teeth, you want something soft and easy for him to grasp.
Chuckit! Ultra Flight FlyingDog Toy – You can still play a game of fetch, but this disc is gentle on your dog's mouth
Outward Hound Hide-A-Squirrel Squeaky Puzzle Plush Dog Toy – Plush so it's easy on your dog's sensitive mouth, but challenging so it will keep him busy.
Partial/no vision
Vision impaired dogs love to play as much as any dog, but toys that make noise can be easier for them to find.
Wobble Wag Giggle Ball – This ball makes all kinds of noises when it's rolled or shaken so your dog can find it by following the sounds.
Babble Ball – Activated by motion with a wide range of sounds, it can take a beating but if your dog is a heavy chewer it may not be the best choice.
Singing Mouse Plush Dog Toy – It sings when your dog squeezes it.
Deaf/Hard of Hearing
Any toy will do, but how about one that lights up?
Nerf Light Up Football – color changing LED makes this toy easy to see, especially at night. Your dog must be supervised at all times because it is not suitable for chewing.
Fussy Eaters
Many senior dog parents deal with fussy eaters, myself included. Sometimes changing where and how we feed our dogs helps.
Treat Dispensing Ball – your dog can run after the ball, and follow the trail of food it leaves behind!! You can also stuff it with things like chicken that won't fall out on its own, but the holes are big enough for your dog to reach it!
Limited Mobility
Dogs with arthritis and joint issues still need to get their exercise through daily walks, but playtime is just as important. I recommend you check out the various strollers and wagons available for dogs that have trouble walking. They will make a big difference in their quality of life. The picture above is of my dog in his stroller. 
Floating Rubber Ball – if your dog likes to swim or goes for hydrotherapy, this ball floats so is a fun thing to play with in the water. 
Anxiety
Chewing is one of the ways to soothe an anxious dog.
Smart Pet Love Snuggle Puppy Behavioral Aid Dog Toy – This plush toy can soothe your dog by switching on the heartbeat function. The disposable warming pack means extra comfort and soothing. Not recommended if your dog is a heavy chewer.
Toys You Should Avoid Giving Your Senior Dog
Rope or tug toys can be okay for him to chew on, but if he's having dental, mobility or spinal issues for example, tug of war, no matter how gentle, is too risky.

Anything stuffed with beans, beads or similar

If your dog is a chewer, avoid toys with squeakers he could accidentally swallow, and buy stuffing-less plush toys

Toys with sharp edges or parts

Hard toys because they can damage your dog's teeth

Parts that can be pulled off and swallowed
What to Do If Your Dog Doesn't Like Toys
Many people who have adopted old dogs, myself included, find they aren't interested in toys. Many senior dog parents have told me their dogs used to love toys, but in recent years lost interest.
Reasons Why Your Dog Doesn't Like Toys
They were never given any when they were younger

Fed up with the same toys year after year

If he's a recent rescue, you may not have found anything he likes yet

Health issues have made it less enjoyable – arthritis, blind, deaf, dementia or just not feeling well overall

Bored/depressed – unfortunately many old dogs don't get out as often as they used to or should

Toys are lifeless just lying on the floor, so there's nothing interesting about them
How to Get Your Dog to Like Toys
√ In one hand hold something delicious your dog loves, in the other hold a toy. When he touches the toy (try holding it close to him) give him the treat. Practice a couple of minutes a few times a day for several days and see how it goes. You may need to try different toys, and lots of praise can help too!!
√ Similar to the above, but this time put the toy on the floor and when he touches it (or puts it in his mouth) give him the treat. Be sure to get excited about it and give him lots of praise.
√ Try toys that talk, vibrate, have flashing lights or motion sensors. One example is this dancing fish toy. Believe it or not my neighbor's dog was playing with this exact toy yesterday, and he was having so much fun. AmazinglyCat Dancing Fish Toy for Cats & Small Dogs – Motion Sensor Cat Toy with 2 Catnip Packets – USB-Chargeable, Soft, Durable, Washable, Low-Noise Floppy Fish Interactive Pet Gifts, 12×5 in.
√ How about bringing a toy on a walk? Playing with it somewhere new can make a difference
√ Combine two toys to make a new one! For example, if you have one with a large hole in it (like you would use for ring toss for example) and another that's straight or bendable, put the straight one through the hole, bend it and watch your dog get interested!
√ If you've never bought a treat dispensing toy or a Kong, now would be a good time to try. Stuff it with something delicious he rarely gets to make it more attractive.
√ Set up a play date with a doggy friend who likes toys, and see if that gets him interested
√ Play with a dog toy and make it seem like you're having fun. Your dog may just get up and join you!
√ Try picking one up, moving it around, drop it on the ground, shake it…pique your dog's curiosity
What if nothing works? It's not a problem because there are plenty of ways to entertain an old dog and keep him active, interested and engaged… just keep reading!
How to Keep an Old Dog Entertained Without Toys
Tricks – Teach your dog new tricks or brush up on old ones
Ball pit – Make a ball pit for your dog to play in
Hide and seek – Hide a treat and ask him to "find it." Let him see you hide it at first, then make it more difficult. If your dog has mobility issues, hide it close by and it will still be fun for him.
Watch tv – Plenty of channels just for dogs.
Doggy day care – It may not be right for every senior dog, but is an option for many. Be sure to ask the owner if you can visit to see how active the dogs are, what the setup is, and if there is a quiet area where dogs can take a break if things get too playful. Unless of course your dog is a live wire and will be right in the middle of the melee!
Games – Here are a couple of DIY simple games to try:
The cup game
Take 3 cups easy enough to knock over, show your dog a treat and let him watch you put it under one of the cups. Move them around and say "find it!"
The muffin tin game
Grab a muffin tin, put a smelly treat in a few of the cups, cover each cup with a tennis ball (or something lighter and easier to move), and let your dog figure out how to get at the treat.
Play dates – Invite one of his doggy friends over to hang out with. Even if he's not up to playing or running around, he may enjoy the company.
Go for a drive – If you don't usually take your dog for a car ride, now's a good time to start. Stop off in a different neighborhood, park or just drive aimlessly. Pop into your local dog friendly café for a drink and a treat!
Take him shopping – If you have errands to run and the stores allow dogs, bring him along!
Make a sandbox – Use a kid's plastic pool or build a small one in the backyard. I know he doesn't play with toys but he may enjoy digging for one! Even if your dog has trouble standing, he can lie down while looking.
Create an obstacle course – This is perfect no matter the weather! During the warmer months set it up in the backyard, and when it's too cold a living room, hallway or spare room would work just as well. Buy online or go the DIY route.
Get some cones or gardening sticks, put them in a straight line far enough apart for your dog to weave in and out of

A hula hoop to jump through – keep it low to the ground if he has mobility issues

A broom handle resting on a brick, paving stone or even a flower pot. The height will depend on ability

How about a collapsible tunnel kids play in?
Dog park – It could be a fun thing to do depending on how much your dog likes other dogs. Some have designated areas for small and large dogs, and certain times of day are much busier than others. Plan your trip to suit your dog, but scope it out first for the best times.
What do Senior Dog Parents Have to Say?
At the very beginning of this post, I mentioned I had surveyed senior dog parents about whether or not their dogs played with toys. I thought you might be interested to read some of the comments.
√ My dog plays with her toys but gets bored with them quickly. I have to keep a toy constantly moving to keep her attention. But once in a while she does want to play fetch for maybe 5 minutes. She likes squeaky toys the best.
√ I have a 17 year old Yorkiepoo that has never shown any interest in toys. Maybe because when she was a puppy we had an older dog and a cat to play with? She's still a happy dog though.
√ Alfie loves his toys and has favourites. He likes soft toys best and rests on them to sleep.
√ My 9 yo loves to kill squeaky stuffed toys. My 12 yo doesn't much care anymore.
√ Up until about 6 months ago she played with her toys. She has lost her hearing and now has no interest in toys. Roxy turned 15 on Sunday.
√ Two of mine love stuffies their size or larger. My oldest used to love small ones and treated them like his babies. He was diagnosed with CCD about 18mo ago and for about the last year he has no memory/interest in them…even the one that was his favorite.
√ My dogs 16 and 8 years old are not interested in toys, they have a basket full. they just like their food – a small cookie once in a while and hugs.
√ My 13 yr old loves her Kong Wobbler, Nina Ottosson puzzles and snuffle mat.
√ Riku has never been one for toys. He likes chasing bunnies though, so if I bounce a ball in just the right way where it "hops", he will chase it and then proceed to ignore. Unless there is food involved – like a Kong.
√ My 15+ year old miniature schnauzer used to love her toys. She used to come drop one by the table every night as we were finishing dinner. It's been a few years since she's wanted to play.
√ Layla has toys, she even has from when I rescued her and all in good shape LOL. She sometimes plays for a couple of minutes and then gets bored.
√ Linus sits by my side while I'm putting on my socks. As I'm working with one foot, he snatches the loose sock and shakes the fool out of it. It's our game.
√ My girl is 16 years old and she still loves playing with her toys. She always did.
√ Really soft rubber toys.
√ Our 11 year old schnoodle has always LOVED her little soft toys and keeps at least one with her all the time. Her 14 year old schnauzer sister used to love to play with soft toys, bouncy balls, pull toys, etc. until she lost her vision 2 years ago. She sometimes picks up a toy and swings it around a bit – we get very excited when she does! But it's very rare these days.
√ Cal loves his Flying Squirrel frisbee toy a lot! And he also likes to chew Boss Bones, the ones that look like sticks.
√I have two non-toy loving dogs….they prefer to sleep.
I am a dog trainer and pet bereavement counselor, offering a senior dog care support service.
I help with everything from health and wellness advice and training tips, to preparing to say goodbye and grief counselling.
Book your FREE 15 minute phone consultation to learn more.
Get in touch today to book your FREE 15 minute, no obligation call. It will give you the chance to let me know what's going on, and we'll talk about how I can help. I can be reached via my FB page or contact form on my website.