A crate is so much more than just a housetraining tool. It's a cozy home for your dog to escape to when things get too hectic, it will keep him safe in the car, and it's a quiet retreat while he recovers from an accident or surgery.
In order for you to buy the perfect size crate for your dog, you're going to need to know his or her measurements and what you will be using the crate for. If you're only planning on using it for housetraining, it needs to fit him for about 5 or 6 months. If you'll be using it throughout your dog's life, the crate has to be big enough to accommodate his full grown size. There is a detailed chart below to help you figure that out.
*There are affiliate links in this post, which means if you buy something I may receive a small commission. This has no effect on the price you pay.*
NOTE: Although this website is senior dog focused, I realise many of you also share your life with a puppy or are planning to. For that reason, I sometimes include information relevant to younger dogs as well. 
Can a Dog Crate Be Too Big?
It can be too big if you're using it for housetraining

It can be too big if your dog is flying in cargo. Many airlines have pretty strict guidelines, not to mention the bigger the crate the more expensive it will be to fly your dog. 

For use in the car, the size will be determined by the amount of space you have to accommodate it.

It won't be too big if you'll be using it so your dog has his own private space, or if he needs bed rest on vet's orders. Having said that, if space in your house is limited than it is an issue.
What Size Crate Do I Need for My Dog?
In order to answer that question, you'll need to know two things:
♦ What you will be using the crate for
♦ The measurements of your dog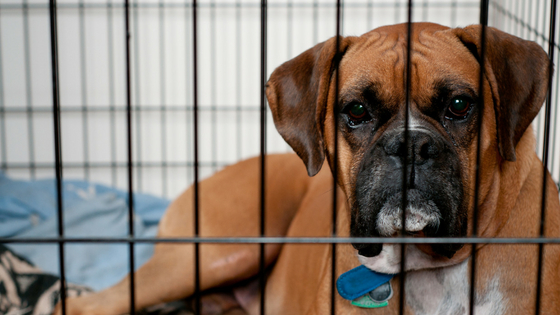 What Will You Use the Crate For
If you're only planning on using a crate for housetraining your newly adopted senior dog or a puppy, all you need is one that will fit him for the next few months. 
However, if you'll be using it throughout your dog's life or buying one for your senior dog, you will need one to fit the size he will be when he's fully grown, or already is! 
Housetraining
When using a crate for housetraining, the crate should be just big enough for your dog to stand up without touching the roof, stretch out, lie on his side and turn around. The reason you don't want it much bigger than that is because dogs won't typically soil their living space.
If the crate is too big, he will have enough room to go to the back of the crate, pee or poop, then be far enough away from the mess to still be comfortable. That defeats the purpose.
A space of his own
Of course your dog will have his own bed or beds in at least a couple of rooms in your home, but a crate gives him that extra feeling of security. Dogs are den animals and while they like to be close to their humans, they also welcome a quiet space of their own. The crate can be set up in a high traffic area so he can still enjoy your company, but perhaps in a corner where he can also remove himself when things get too hectic.
Dogs who are afraid of fireworks or thunderstorms can benefit from having a place to hide. Moving the crate to a bathroom or basement may help muffle the sound. Otherwise putting a cover over the crate, giving him or her an anti-anxiety supplement and playing calming music can help.
Travel safety
It is a law in many places that dogs must be tethered while traveling in a car. Seat belts and dog car seats are two options, but if your car is big enough a crate will work too.
For flying you would be using a carrier not a crate, but I have included information about airline travel in the measurement section below. Even though the product is different, measuring is the same.
Rest after injury, illness or surgery
I don't want to be all doom and gloom, but there is the very real possibility at some point in your senior dog's life he or she will get hurt, sick or have surgery. It doesn't have to be something major to require bed rest. Maybe he overdoes it on a hike one day and needs to rest. A crate is the best way to ensure he isn't jumping all over the place and making things worse.
In this case a nice sized crate would be welcome so there's room for a big bed, a blanket and some favorite toys.
My dog Jack had spinal surgery a few years ago after sudden paralysis. He needed to rest and was in a crate for 4 months, except for his allotted exercise time, and when I took him out in a doggie stroller to prevent boredom. That period of confinement made all the difference to his recovery.
How to Measure Your Dog for a Crate
If possible, bring your dog with you when you start shopping so you can see how your dog "fits" in various sizes. Even if you ultimately make your purchase online, having already seen your dog in a crate will make the selection process easier.
With your dog standing measure…
From the tip of his nose to the base of his tail
From the floor to the top of his head if his ears are naturally down, or the tips of his ears if they are naturally up
The widest point on your dog's body
There is a difference of opinion as to how many inches you need to add to the measurements when choosing the right size crate. I've seen recommendations from 2"-6."
If the crate will be for your home or car, the space you have to put it will be the determining factor. If you'll be flying, especially internationally, that is a whole other story and you need to get it right or they may not let your pet on the plane. In that case, please contact your airline, cargo or pet shipping company for their requirements. 
We've used a pet shipping company for Jack when he's travelled overseas, which is such an amazing service. It's expensive, but some airlines won't deal directly with passengers so you have no choice! It is less stressful knowing the paperwork will be done right (as long as you choose a good company). Anyway, they build a crate for each animal they transport which takes the guesswork out of the size, and guarantees it will be accepted by the cargo company. All you have to do is send them measurements! 
NOTE: Some people use the words crate and carrier to describe the same thing although they actually are not. I'm going to include international travel in this section because even though you will be using a carrier and not a crate, the information in this section will help you.
SIZE
MEASUREMENTS (LxWxH)
WEIGHT
BREED (a few examples)

Extra small

18"-22"

18″ x 12″ x 14″ – 42 x 49 x 35 cm

22″ x 13″ x 16″ – 56 x 33 x 41 cm

Up to 25lbs

11kgs

Chihuahuas, Maltese, Morkie, Toy Poodle,

Small

24"

24″ x 18″ x 20″ – 61 x 46 x 51 cm

Up to 25lbs

11kgs

Bichon Frise, Shih Tzu, West Highland Terrier, Boston Terrier,

Medium

30"

30″ x 19″ x 21″ – 76 x 48 x 53 cm

26-40lbs

12-18kgs

Cockapoo, Dachshund, Corgi, Staffordshire Terrier (Staffie)

Intermediate

36"

36″ x 23″ x 25″ – 91 x 58 x 63 cm

41-70 lbs

18-32kgs

Beagle, Whippet, Basset, Springer Spaniel

Large

42"

42″ x 28″ x 30″ – 107 x 71 x 76 cm

71-90lbs

32-41kgs

Border Collie, Retriever, Boxer, American Bulldog

Extra large

48″

48″ x 30″ x 33″ – 122 x 76 x 84 cm

91-110lbs

41-50kgs

German Shepherd, Greyhound, Doberman, Sheepdog

Extra extra large

54″

54″ x 37″ x 45″ – 137 x 94 x 114 cm

Over 110lbs

over 50kgs

Great Dane, St Bernard, Mastiff, Weimaranger
I compiled these figures through my research of crate selections on Amazon, Chewy and Pet Crates Direct.
NOTE: Because of the number of breeds, mixes, and crosses this is not an exact science, but it's a guideline and a good place to start.
Resources
What Size Dog Crate Do I Need?
Dog Crate Sizes | A Quick Guide
I'm a dog trainer providing a senior dog care support service to help you address health & wellness concerns and training issues. Sessions are held via Zoom, and I offer a FREE 15 minute no obligation chat to discuss what's going on and how I can help. To learn more and to get in touch email hindy.greypawsandall@gmail.com or visit my website.